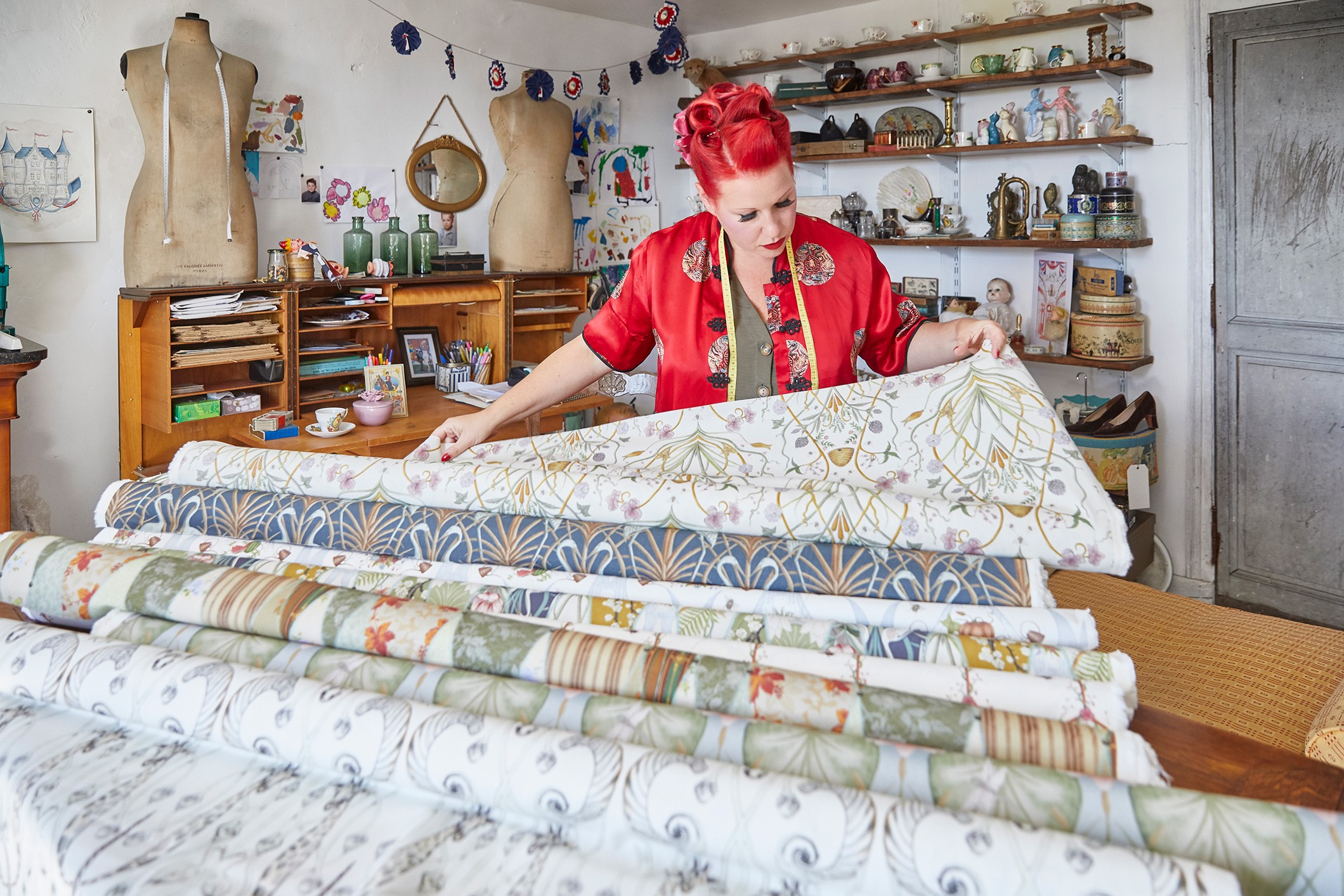 Introducing The Chateau in Cumbria
The Chateau Collection by Angel Strawbridge – John Young Furnishings displays the widest range in Cumbria.
When staring at four walls during the lockdown, people have been pondering how to make changes to their living areas. There's definitely been time to consider whether you want a small-scale refresh or be brave with a more radical, completely new look.
Research on the internet and home improvement TV on 'catch up' has sparked the imagination of many who are ready for change.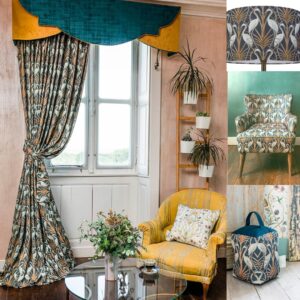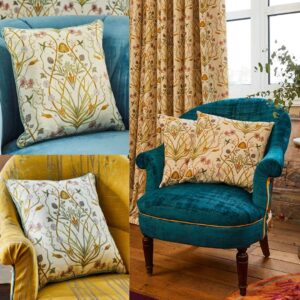 John Young Furnishings – the Keswick based furniture and interior design shop – says one TV programme has dramatically influenced the demand for their newest interiors range. 
The Chateau Collection by Angel Strawbridge includes wallpapers, cushions and fabrics inspired by The Chateau de la Motte Husson as seen on Channel 4's Escape to the Chateau.
New viewers and avid fans have been watching (and re-watching) 30+ episodes that follow Dick and Angel Strawbridge as they renovate the 45 rooms of their French Chateau.  Angel, described as a 1940's vintage clad redhead, is creative and inspired by the Art Deco movement. Launching her range of fabrics and wallpapers means fans can take the inspiration from the Chateau and add  a taste of the collection in their own home.
Liz Weightman, Manager at John Young Furnishings said "We introduced the range before Christmas and the shop now has the largest display of Angel's Collection in Cumbria. The designs in the Chateau have been cleverly scaled down so they can work in our own homes. It's certainly a look that transcends generations of homeowners. We've customers in their thirties and in their seventies choosing curtains, wallpapers, and accessories.
"Angel is very keen to support independent retailers and has produced ranges that you will only find in shops like ours. So when customers come to Keswick, they will be able to choose from the largest selection available.
"Vintage is still very popular as a theme and The Chateau collection works well alongside it, with people adding existing accessories to personalise their style. Cushions are often the starting point for change – especially for those who just want a hint of Angel or art deco. But for 2021, interior trends are very much focused on the following – which we think will make this collection long lasting:
Arts and crafts
Bold vintage
Luxury vintage
Detailed and dramatic
Textured wallpaper
Salvage and reuse
Plants and nature
Lemons & greens
Colour blocks 
Cottagecore – born out of crafting, baking, romance, country cottage (think painted Welsh Dresser)
 "For us, the most popular designs from Angel's range are the Potagerie, Museum and contrasting Heron designs, and we're delighted that the wallpapers are British made – that's something we focus on right through our shop. We work with British furniture manufacturers  – which means if you would like a  chair or a sofa in an Angel fabric, we can produce that for you too. For those who want to accessorise and keep walls plain, the lampshades, cushions and doorstops can add just that hint of 'Chateau'. "
Potagerie print
Inspired by her love of Art Deco and Dick's love of their garden, Angel created the Potagerie print which is a delightful celebration of their French Chateau garden, featuring vegetables like carrots, courgettes, and artichokes as well as sweet peas and bees. It features in the fourth-floor room of the Chateau – formerly the servants' quarters, which overlooks Dicks walled garden (Potagerie). He duly renamed the room the Potagerie Suite.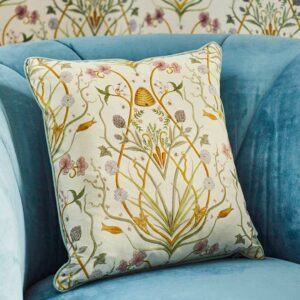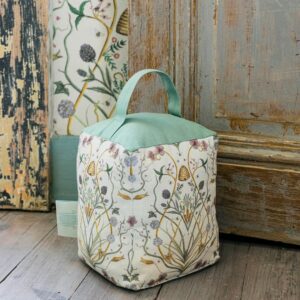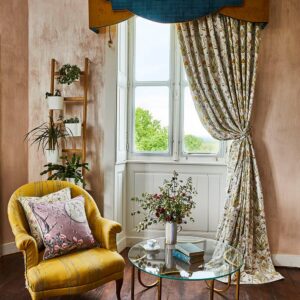 Angel says "We even took inspiration from the flowers on the century-old wallpaper that was originally in the room. 
"Our original and favourite pattern, Potagerie, is beautifully printed to ensure all of the detail of the original artwork is reproduced in its tones, colours and full glory."
The Chateau Museum
 'Museum' is the perfect name. The chateau was originally built in 1874 to showcase its original owners' wealth, with rooms screaming of decadence and grandeur. This harlequin patchwork design is recreated from the wallpaper now hanging in the Tower of the Chateau. Its design features many of the stunning wallpaper offcuts discovered in the chateau's attic, samples and leftovers used for decades.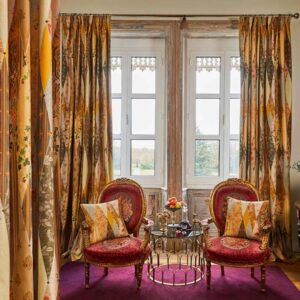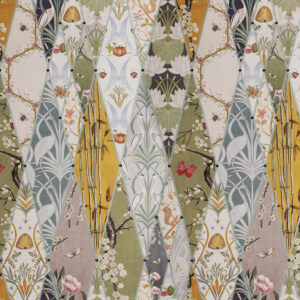 Nouveau Heron Navy
There's a Heron that sits on a rock at the chateau each morning and it was the story for Angels original Deco Heron design.  This fresh 'Nouveau Heron' design is the newest heron design and available in cream and navy. Definitely still of the art deco influence it is elegant and makes a simple statement.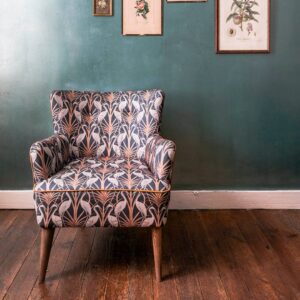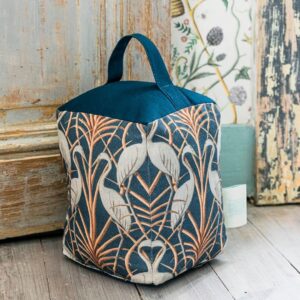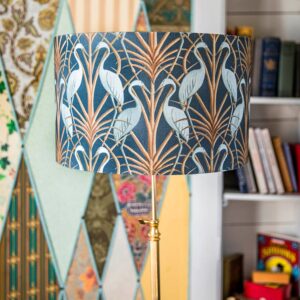 Liz Weightman helps customers create living spaces that reflect their own style. The Chateau by Angel Strawbridge collection is just one of a huge range of Collections available in the shop.
The shop is set to reopen once lockdown ends, but for more information email furnishings@nulljohnyoungkeswick.co.uk or visit the FaceBook page https://www.facebook.com/Johnyoungkeswick/