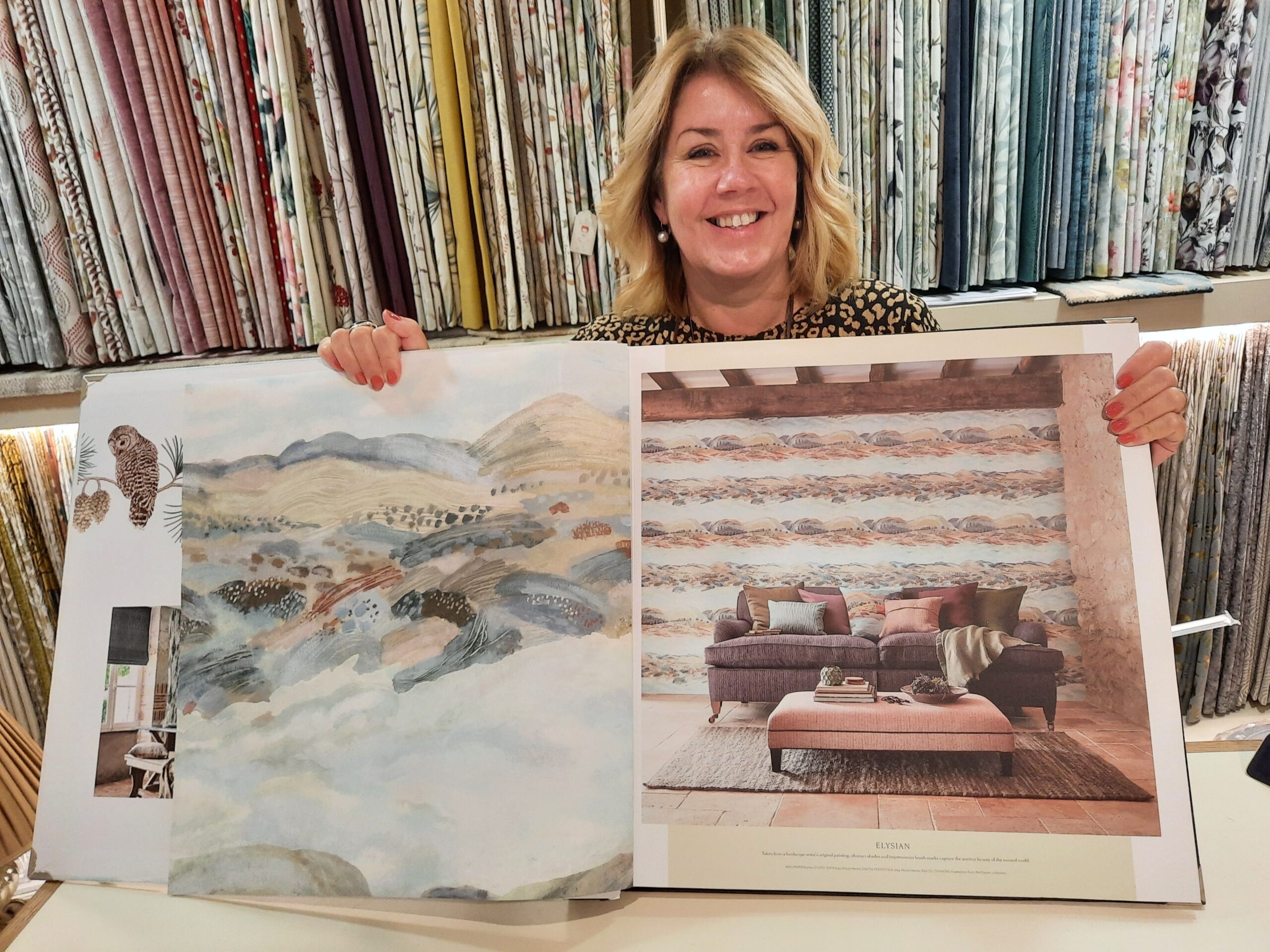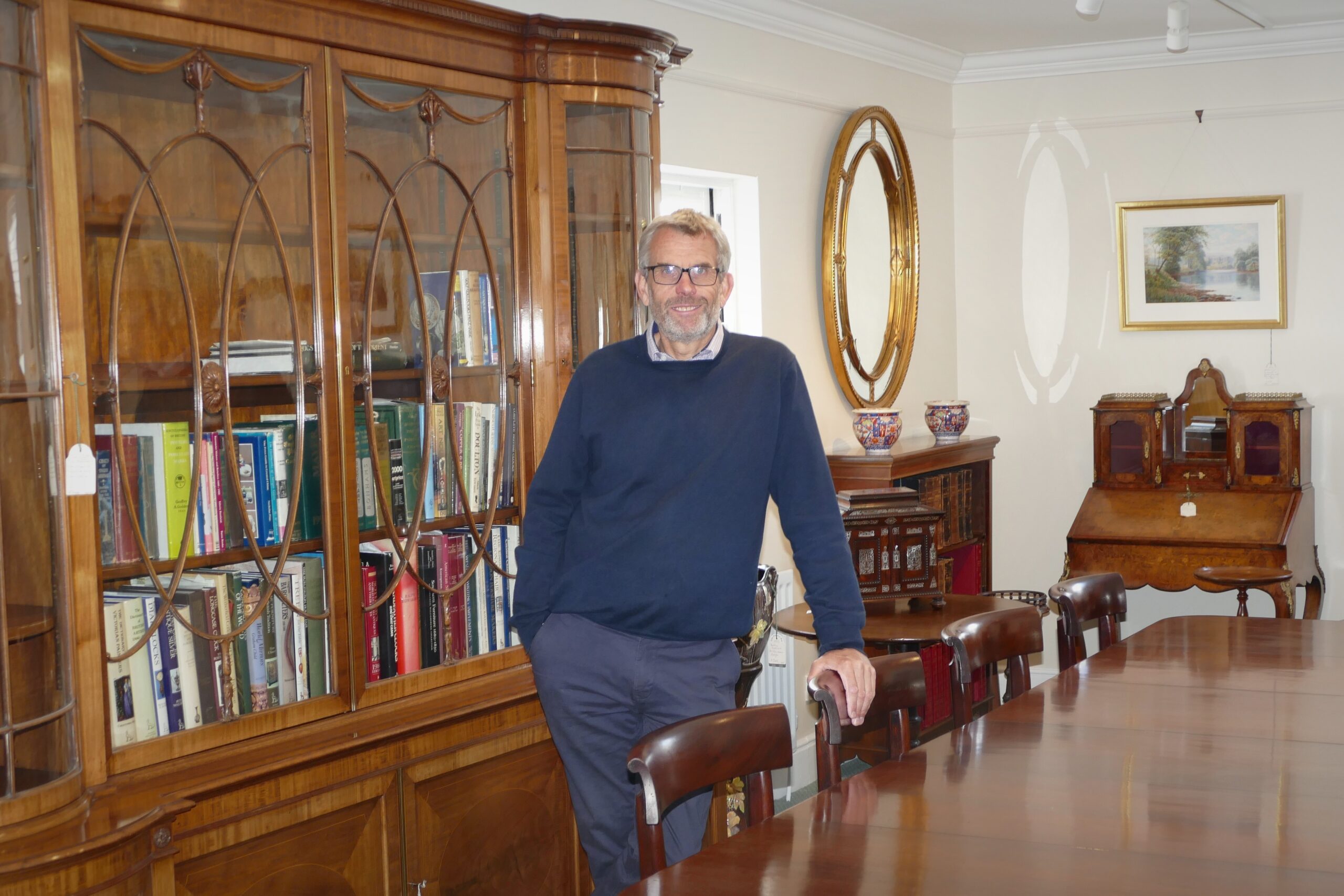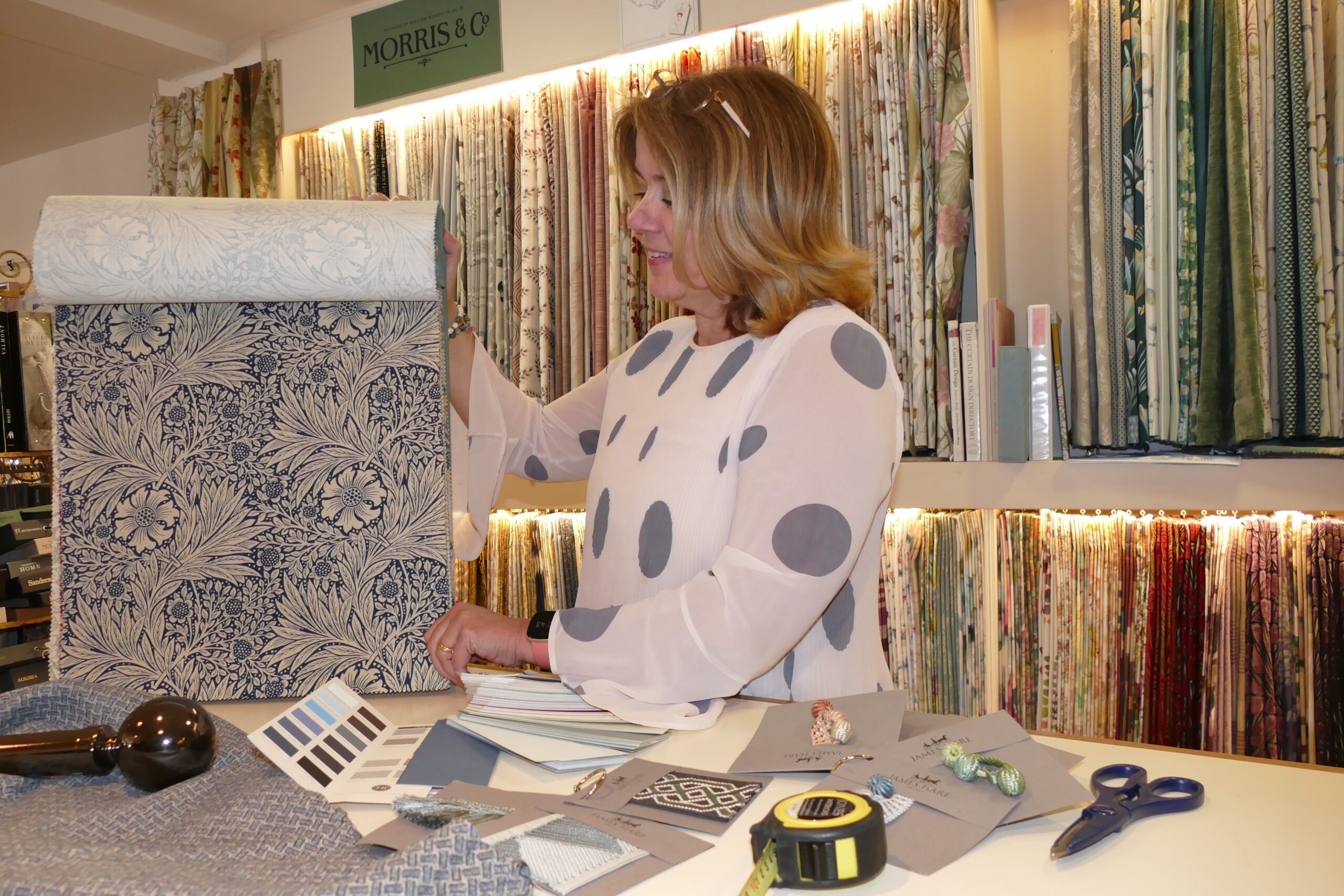 Visitors to Keswick might get a surprise when walking down Main Street – the familiar front window of John Young Furnishings has gone and been replaced by Peter Rabbit & Friends. Those looking for it need not worry – the furniture and antique shop is still open – with its entrance through the alley into Kings Head Court just to the rear.
The long established Keswick business has completed their showroom reshuffle and now has all their modern furniture, sofas, and curtain fabrics under one roof, with a small gallery of fine antiques next door.
Owner John Young made the decision to let out the ground floor of the front shop, moving the antiques upstairs  and still keeping the large furniture showroom next door – where it has been for the last 19 years.
Shop Manager Elizabeth Weightman said "Covid restrictions meant we haven't had the door of the front shop (opposite the Moot Hall), open for two years and regular customers have become very used to walking down the yard to find us.
"I think they like the tranquillity of being away from the hubbub of the square – we are an oasis of calm down here. We do appreciate that some customers, who haven't visited Keswick for a long time, might think we have gone when they don't see the familiar front window, so we are having new signage made to help them find us.
"Nowadays, our shop window is the internet, so we are also working on our website, restyling it and developing it to encourage people to pay a visit our store. There is no substitute for sitting on a sofa or feeling a fabric when it comes to making a purchase, plus they can get advice here from our friendly, knowledgeable staff.
"Our move to having all our furniture and furnishings into one building has not compromised the range of things we sell. We still have the same British suppliers which means we are able to offer beautiful, high quality sofas and chairs, plus handmade furniture made to the customers specification."
Post covid saw a rise in people looking to refurbish their homes and an increase in house sales too. People who move house often want to make a lot of changes at once and the team at John Young Furnishings  are seeing large renovations take place too. Elizabeth explained "It can be quite daunting taking on a project, often people don't know where to start, but we can advise on every stage of the decorating process, from wallpaper to rugs and everything in between!
Last month John and Elizabeth attended their first major trade show in three years, and they said there was a very upbeat atmosphere. Manufacturers were boldly showing strong jewel colours in greens and blues, plus patterned fabrics on many of the stands and visitors to the shop will be seeing this on some of their new displays.
Commenting on the colours and styles popular in their shop Elizabeth said, "Our customers rarely ask for neutral colours or plain fabrics – a bit of colour and pattern can really add personality to a room, so it's great to see more choice coming through. "
"Farrow and Ball paints are often used by our customers – a popular one at the moment is 'Stiffkey Blue.'  A good curtain fabric to put with it is 'Marigold Indigo' by William Morris. The inky blue and stone Arts and Crafts pattern is on trend, but it's all about the styling, don't be afraid to mix different patterns together in one room – that's something Morris & Co. does very well."
Already on display in their large gallery is a stunning new Knowle sofa which is on a grand scale that would suit a large room. The fabric is in soft blues with a Persian influenced patterned which had just been launched. The fabric is an archive design but in chenille, it has great flow and symmetry and the attention to detail is exceptional, plus it is soft to the touch.
Lead times are still longer than John Young's would like, but they are coming down as suppliers catch up with their backlog of orders. Elizabeth said "Thankfully our customers have been prepared to wait for furniture which is high quality and specially made for them. We are now also seeing new stock of lamps and mirrors coming into store, which helps refresh what regular customers see when calling to see us and are always a talking point for passing visitors who call in.
The furniture showroom is open 6 days a week and the antique gallery by appointment. scing elit. Ut elit tellus, luctus nec ullamcorper mattis, pulvinar dapibus leo.