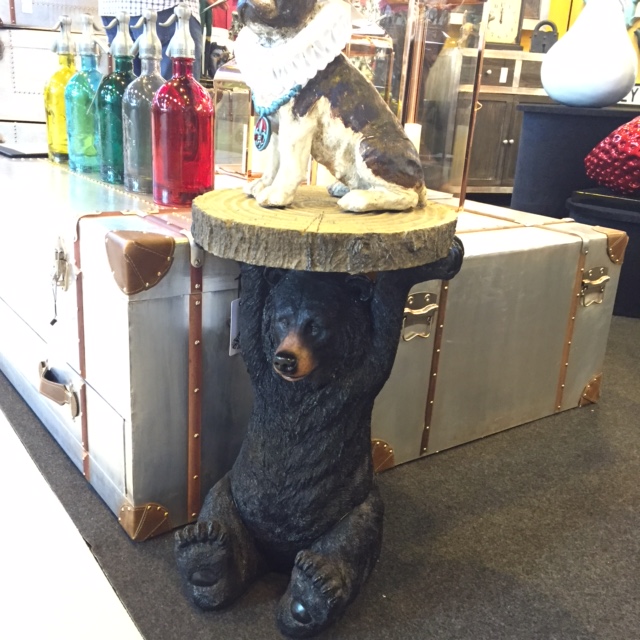 Roaring trip to trade fair reveals lion and bear essentials
John and I set off before dawn yesterday so we could get to the Spring Fair at the NEC at Birmingham to find new stock. It's always exciting to see what's new and what we think our customers will really like. When you walk through the door it's an assault on your senses, so much to look at, take in and admire. It's rich in texture and colour, and very smelly with the aroma of so many candles.
NEW STOCK
It's a buyers dream and a nightmare too, so much to see and so little time. But we know our customers so that makes life easier. This year we spotted some real animal magic….. the ever popular foot stools have a new King of the Jungle – a fabulous lion. Speaking of animals, there was also a very endearing bear cub that acted as a table – we have ordered some of those too.
Customers tell us we have a great collection of mirrors and lamps so it's important we keep our range up to date. We spotted a couple of really stunning mirrors and have put them on order too. It's a great place to get inspiration and we're always eager to unpack the boxes when the arrive – they look even better when displayed in our own showroom – so watch out for new stock in the coming weeks. If you've not seen our showroom before, as well as furniture, we have lots of things to ad to your  home – see  our accessories page.
Have a look at some of the pictures from our visit – taken by the phone so not brilliant quality, but we were excited to show you what we found, what inspired us and what may appear as new stock soon.