Hypnos beds and mattresses
At John Young Furnishings in Keswick, we specialise in Hypnos Beds – because a really comfortable night's sleep is really precious. We spend a third of our lives asleep, so there could be no better investment than a quality handcrafted mattress made by Hypnos. It is one of the most important purchases you will ever make, so invest wisely.
Hypnos is the leading British manufacturer of luxury pocket sprung mattresses, bed bases and headboards – that's why we only stock Hypnos beds. They supply some of the finest palaces, estates and hotels around the world.
We know they're the best because our customers tell us they will only ever buy Hypnos!
Great reasons to buy Hypnos:
Over a century of fine British bed design and know-how
Natural and sustainable – Hypnos has honed their artistry over the decades to create beds using luxurious, durable and natural elements. Their generous fillings help to regulate body temperature; wick away moisture and repel allergens. Hypnos is the first British Carbon Neutral bedmaker with all of their beds being 100% recyclable.
Craftsmanship and design – Hypnos take their responsibility for your well-being seriously. Each and every bespoke bed is meticulously hand built to bring you comfort, relaxation and pleasure. You will never own a more comfortable and more beautiful bed.
Quality – Their pursuit of perfection means Hypnos creates authentic and enduring pieces of Great British furniture. A Royal Warrant from Her Majesty Queen Elizabeth II, a clutch of prestigious awards and a 10 year guarantee reinforce their reputation for the best of British quality.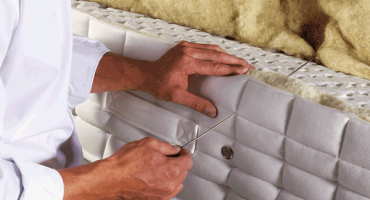 Like us, Hypnos is a long-established family business and we trust them to provide high quality best and mattresses for you. They have an illustrious Royal history and handmake their beds and mattresses from their Buckinghamshire workshops. All you have to do is choose the one that creates the bed of your dreams.
Have a look at the HYPNOS VIDEO