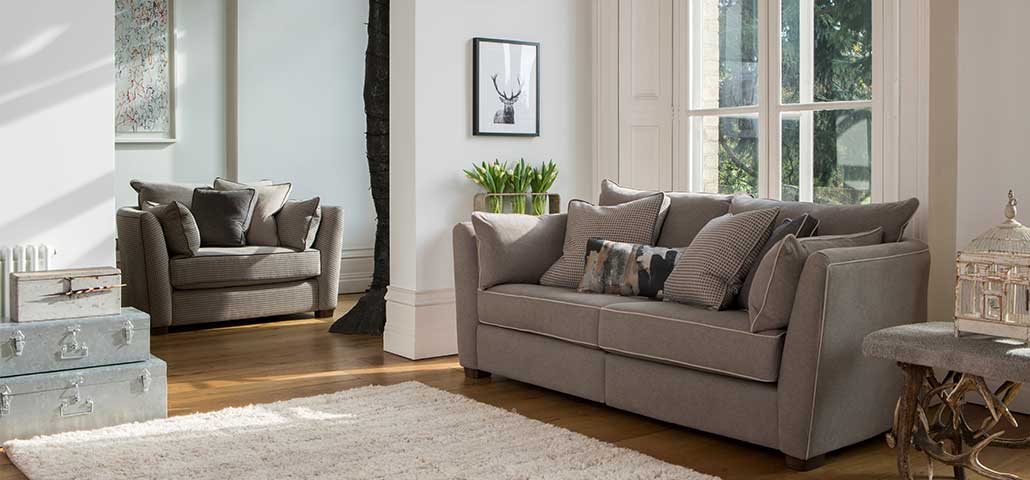 Collins & Hayes - largest showroom in the North West
We're delighted to be official stockists of the Collins & Hayes range of sofas and chairs. If you visit our showroom in Keswick you will discover the largest collection of Collins & Hayes designs in the North West.
If you are looking for handcrafted luxurious sofa or chair, the Collins & Hayes range is distinguished by effortlessly elegant, smart, yet casual styling. You can choose from a range of fabrics with hand-stitched detail. The sturdiest of frames is completed with solid oak feet.
Quality in the making. Time-honoured tools and techniques ensure every piece embodies the passion of Collins & Hayes highly skilled tailors. They are as passionate about quality as we are. They use fabrics from family-run artisan mills across the UK, Italy and Belgium.
Fabrics and leather. The luxurious collection of natural fibre fabrics and leathers are curated by the Collins & Hayes designers and technologists combining elegant colour pallets with subtle texture. Pure cottons, fine linens, rich wools, sumptuous velvets are included in the extensive range library of materials. Harmonious pallets of soft hues and contrasting or complimentary piping of your chose.
Guarantee of quality. We've great confidence in the quality and comfort of these pieces – and Collins & Hayes offer a lifetime promise on every frame.
You won't find a larger display of Collins & Hayes styles in Cumbria (or the North West!) – so call in to our shop and see what's on offer:
Maple – with a curved back
The stylish curvaceous back is gently complemented by the deep sumptuous seats and feather filled back cushions. Available as a slip cover or upholstered sofa, choose from the new collection of Italian velvets with piping in a contrasting colour for a look that's both luxurious and refined.  We feature here the loveseat in a dog tooth with contrast trim and sofa in Heartland Stucco with contrasting Heartland Flax piping.
Radley – clean lines and gently tapered arms
Radley is the newest addition to the Collins & Hayes Sofa collection designed for a more contemporary look. Available as an upholstered or slip cover sofa the clean gentle lines and gently tapered arms of Radley create a beautiful shape for slip covers in lighter tones or printed designs. Sink into the irresistibly soft, deep seated comfort of Radley. Create this look by combining accents that bring in a subtle hint of colour and casual style.
Heath – Elegant and considered
Heath's exquisite tailoring paired with its more contemporary style give a look that's casual yet refined. Here, Collins & Hayes have combined neutral tones with simple hints of charcoal, then softened with lighter accents. The model we have in our showroom is covered in in tones of apricot and terracotta.
Miller – Invitingly soft and casual
Miller offers an extensive range of options from upholstered and slip cover choices, right through to chaise end styles and a corner group.
The design team have selected a number of looks to highlight Miller's versatility. The casually styled chaise end upholstered sofa pictured beautifully in Signature chalk has been infused with hints of charcoal to create a stylish pared-back look. Choose a modern classic with the Miller slip cover sofa, contemporary and minimal styling is key to creating a modern-luxury feel.
Lavinia – Decidedly elegant
A Collins & Hayes firm favourite, Lavinia has been carefully handcrafted with comfort and style in mind.
The design team have selected Awaken Eau de Nil with piping in Sublime Platinum to gently highlight Lavinia's beautiful proportions and classic shape.
Hawthorne Chair – the perfect match
The Hawthorne Chair has been designed to perfectly complement any sofa across the range. Whether you're looking for a swivel chair, solid wood feet, upholstered or slip cover, we have ensured the collection has it all.
Footstools – put your feet up
Complete your room with one of the Collins & Hayes casually styled footstools. Choose from fixed and loose cover styles with contrast piping options in a range of sizes.