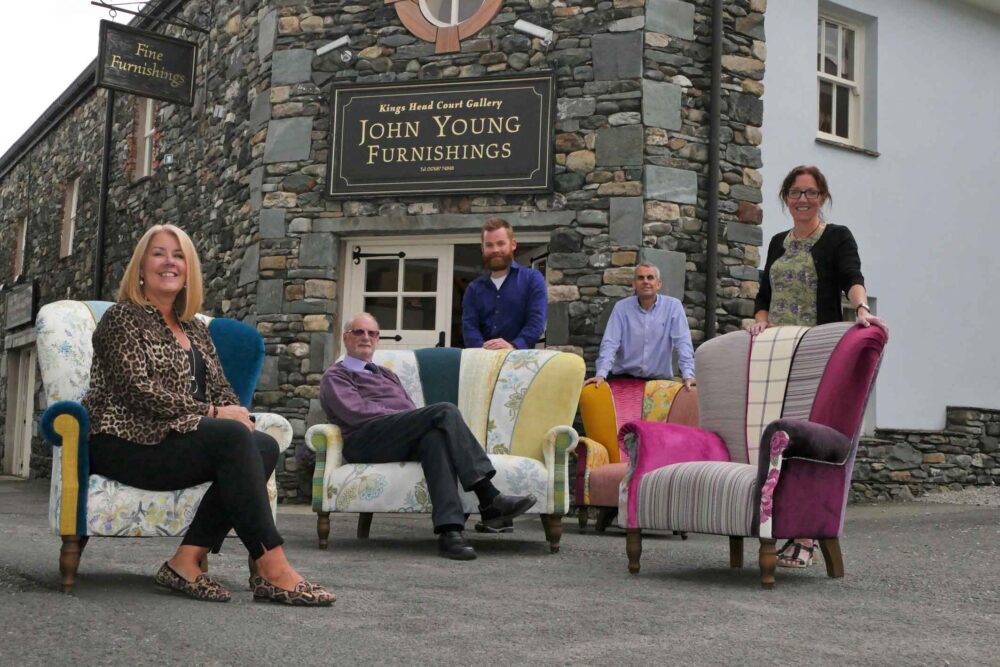 Rear Gallery is an eye opener
John Young Furnishings – reopens at the back door. Operating from their rear gallery, John Young Furnishings – the fine furniture and home furnishings retailer in Keswick,  has seen positive signs from customers in the first four weeks following lockdown – despite only opening part of their premises.
John Young Furnishings is a shop of two halves –  a historic double fronted shop on Main Street, with a large, modern gallery at the rear. To provide the safest shopping experience for staff and customers, John Young opted to emerge from lockdown by only reopening their rear gallery.
Owner John Young said "We thought long and hard about the best way to reopen and felt the gallery gave everyone the best opportunity to shop with social distancing in mind. We were initially concerned that not opening the front shop would be an issue, but we've had a Gallery since 2003, so we felt most local people would know where we were.  It is great to be open again, and we were delighted to welcome a steady stream of local customers. They already knew what they wanted to buy so we had a very encouraging start.
"Being positive about the current situation, we've found that there are a few regular visitors to Keswick who didn't realise we had a Gallery at the back and they've now found us! And we are seeing more visitors exploring all of Keswick, venturing down the alleys, discovering more of what the town has to offer – including our Gallery.
As tourists descend on Keswick, the demands of the business have changed. Manager Elizabeth Weightman has spent more time on appointments in store and has started visiting local homes of customers looking to refresh their interiors. Elizabeth said "During lockdown people have had time to think about how they can change things post lockdown – or they have been busy decorating and now need new furniture, curtains or accessories.
"It's great to see customers are now confident enough to invite us into their homes to advise on a completely new look or simply update what they have. It usually starts with them coming in to the shop for an initial chat to get some ideas, then Jane or I will visit the property to look at the details."
As many large retail chains are closing shops it is comforting to know that small, family retailers where quality of services are still on the high street.
John said "We're proud to be an independent furniture retailer- one of only a few in the country that sells BRITISH manufactured furniture. It appeals to people all over the country, so when holiday makers do find our shop, they come back time and time again – which is good news for Keswick too."
The Gallery displays a wide selection of furniture, as well as a wide choice of wallpapers, fabrics, mirrors, lighting and accessories. For regular updates on new stock visit their facebook page www.facebook.com/Johnyoungkeswick